INTERVIEWEES: Marty Corrado – General Superintendent (JE Dunn) and Preston Pressley – Vice President of Business Development & Marketing (BakerTriangle)
PROJECT: Medical City Plano Tower Expansion
PROJECT START DATE: May 2018
ESTIMATED COMPLETION: October 2019
ARCHITECT: Perkins + Will
OWNER: HCA
PROJECT DELIVERY: Design Assist
MAJOR TRADE PARTNERS: Brandt, Enterprise Solutions, BakerTriangle, Blox (Prefabricated Supplier), Chery Painting, All Commercial Floors, Fenimore Blythe, Dynamic Glass, and Herman Miller.
PROJECT DESCRIPTION: The Medical City Plano Tower Expansion consists of a 145,000 SF new addition to an existing hospital. This new structure will provide 90 new beds, including 60 beds for medical and surgery patients and 30 beds for burn and ICU patients. This facility is the only Level 1 Trauma Center in Collin County. Level 1 trauma centers provide the highest level of surgical care for trauma patients.
The most unique aspect of the Medical City Plano Tower Expansion is that 60 percent of this project was prefabricated offsite. The following building components were prefabricated: 252 exterior skin panels, 63 (20' x 8' x 4') overhead corridor racks, 51 (20' x 5' x 3') overhead patient room racks, 105 bathroom pods, 90 headwalls, 90 sink walls, 15 nurse charting stations, underground duct banks, electrical rooms, modular casework, prefabricated drywall and acoustical shapes, and pre-bent, assembled, and skidded conduit.
Using prefabrication methodology saved the owner 10 percent on the schedule and 10 percent on the overall project cost. When finished, Medical City Plano Tower Expansion will achieve a LEED Silver Certification.
Q: WHAT ARE THE BENEFITS OF USING PREFABRICATION TECHNOLOGY?
A: There are so many benefits. First, we were able to offer HCA cost and schedule guarantees without any scope sacrifices. Our team was also able to provide early revenue recognition, which helped us present the owner with an accurate cost analysis for the lifecycle of the project.
Another major benefit of prefabrication is the standardization of the offsite manufacturing process. As most of us know, we don't have the manpower in the state of Texas, or in this country at-large, right now to staff projects of this magnitude within the schedule constraints given. Prefabrication is a solution to the workforce issue we are facing in Texas and in the entire construction industry. We need to consider more prefab projects like this with manufacturing building components offsite and product assembly onsite. This methodology requires less manpower, significantly reduces risk on the jobsite, and provides an overall safer working environment.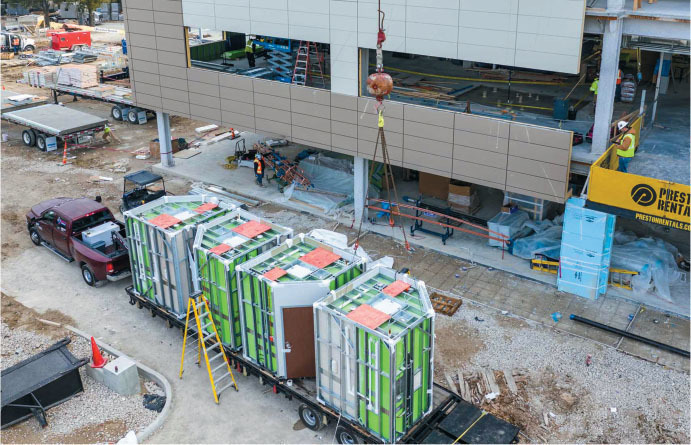 Q: HOW WAS PREFAB UNIQUELY USED ON THIS DIFFERENT FROM OTHER JOBS IN THE PAST?
A: The Medical City Plano Tower Expansion is truly the first of its kind. The amount of prefab and extent to which prefab was used on a healthcare project has never been attempted in the healthcare construction industry. This project was also unique because of the level of engagement from the owner. HCA is a very sophisticated owner. They're judicious with their capital and have learned how to be extremely efficient during the design and construction processes, which is why they gave us the lofty goal of 60% prefab for this project.
Q: A LOT OF HEALTHCARE OWNERS USE LEAN CONSTRUCTION. DID YOUR TEAM EMPLOY ANY OF THESE METHODOLOGIES ON THE JOB?
A: HCA used Last Planner® System of Production Control for data collection. (The term Last Planner® is a registered trademark of the Lean Construction Institute.) The Last Planner® is a holistic system, meaning that each of its parts is necessary to support lean project planning and execution. HCA invested the time and money into this software in order to collect the data to provide support that prefab was, in fact, the way they wanted to go for this project.
Q: WERE THERE ANY ADDITIONAL SPECIFIC TECHNOLOGICAL ADVANCEMENTS REQUESTED BY THE OWNER?
A: Event coordination through BIM/VDC. Traditionally on projects, the architect manages the model. We did things a little differently on this one and had the project team manage the model from day one. A month before our project start date, we presented the model to HCA at 70 percent without the owner or architect even seeing it until that point. Another first for Medical City Plano was that we had our model fully coordinated during pier drilling! We said, "We had a model waiting on a building, not a building waiting on a model."
Q: WHAT OTHER ASPECTS SET APART HCA AND THE MEDICAL CITY PLANO TOWER EXPANSION?
A: The quality of the team members. This project team has a unique chemistry and true spirit of collaboration. From day one, we set the standard that nothing was off limits creatively. Marty is one of the top 100 Superintendents in the nation that really knows prefabrication and how to build with it. His leadership, combined with the caliber of the team, really helped us push the boundaries of prefab and provide innovative solutions to the owner.
Q: HOW MANY PEOPLE WERE ONSITE AT THE PEAK OF THE PROJECT?
A: In a traditional delivery method, right now the project should have 350 people onsite, but due to prefab, we are currently at the peak of construction with only 150 people onsite. This is a very big advantage. As you know, most all healthcare campuses in DFW are very busy. As a construction team, if we can have half as many workers driving to an already busy campus, we can greatly reduce the impact to that facility.
Q: WHAT PROACTIVE MEASURES DID THE TEAM EMPLOY TO KEEP EVERYONE SAFE DURING THE PROJECT?
A: Driven by the amount of prefabrication, there were many safety aspects we didn't have to consider like we would in a traditional project. For example, we didn't have to scaffold the entire building to install the exterior skin. Additionally, with the amount of overhead corridor and patient room racks, we had far less material being delivered to the site. There was no need for a laydown area or constant truck deliveries. BakerTriangle built the 252 exterior skin panels less than 10 miles away in a controlled environment with a reduced amount of manpower. Panels were placed on rollers at waist level to install all framing, sheathing, waterproofing, metal panel substrate, metal panels, and EIFS. Dynamic Glass even came in and set their windows in the panels prior to jobsite delivery. Picture the efficiencies of team members working at waist level and not having to go up and down scaffolding, or up and down on a boom lift. A lot of potential hazards and risk are eliminated through prefab technology.
Q: WHAT ARE YOU MOST EXCITED ABOUT FOR THIS PROJECT?
A: This is the most exciting project we've ever been a part of. People like coming to work here. Our jobsite trailer houses not just us as the GC, but also our trade partners like Enterprise and Brandt. The specialty contractors love this job.
We also love how Medical City Plano Tower Expansion is setting an industry standard for prefabrication technology and bringing the healthcare owner community together. In late January, we had over 70 people onsite to walk and learn about this job. At this sitewalk, we had seven different healthcare owners, four developers and more than 10 different general contractors – it was exciting to see the industry unite together to learn more about the benefits of prefabrication. The best thing about prefab is that anyone can do it.
Q: WHAT CHALLENGES DID YOU FACE ON THIS PROJECT?
A: We had to adapt to an entirely new way of thinking on this project. We've been programmed to be reactive during the construction stage, and because of prefab, we were forced into being proactive and anticipating things earlier on than usual. This process is also a change of mindset. Time that is typically taken during construction is slid forward to preconstruction. It requires resources, time, and planning much earlier, which allows for less time and planning needed during actual construction.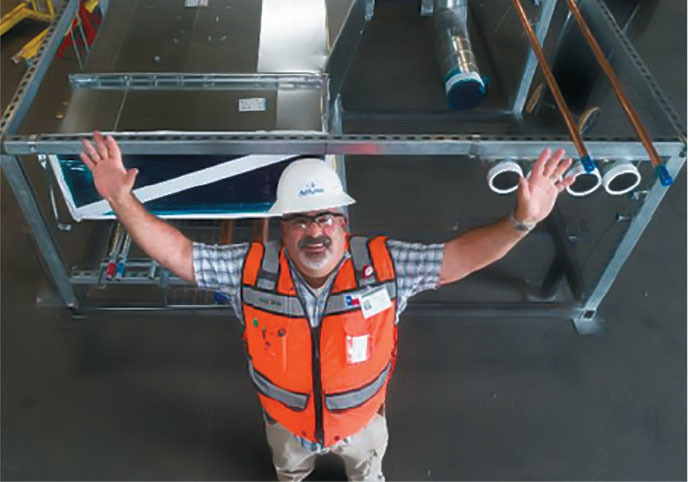 Q: WHAT IS SOMETHING THAT SETS YOU APART FROM YOUR COMPETITION?
A: Our team and their attitude. Our team showed bravery. We had an open-minded approach and weren't afraid of doing something that hadn't been done before. We came together as a cohesive group, stripped off the titles and company names, and united as an industry to tackle this unchartered territory together. The conversations at early award were as high level as we had ever seen. No question was outside the boundaries. Upon initial discussions, we were trying to figure out how to set and build full areas and full patient rooms offsite. This process really pushed the boundaries of stripping what we were used to doing onsite and challenging us to be open minded about prefabrication processes that had never been done before.
Q: HOW HAVE YOU MAINTAINED A SPIRIT OF COLLABORATION THROUGHOUT THE LIFE OF THE PROJECT?
A: Trust. Everything we committed to from day one worked out. We kept to our common goal and everything that was preplanned. We have experienced continued success because of this. This success has helped us maintain that collaboration, and we have been fortunate to have an entire team of doers and not talkers. We've experienced more efficiency with less people. The team genuinely trusts one another, and that has created a tight knit group. We've never had the electrician and subcontractors sharing the same office onsite. The team really knows one another. There is not a single anchor that has held this project or process down – it has truly been refreshing.
Another aspect of trust that maintained this spirit of collaboration was how HCA employed JE Dunn from the very beginning, before plans were even established, to choose our specialty partners. JE Dunn was able to make recommendations, and the owner demonstrated trust in us as their contractor. This freedom allowed true partnership from the onset of the project.
Q: WHAT IS YOUR FAVORITE PLACE AROUND THE JOBSITE TO EAT?
A: We have a food truck on the jobsite – United Catering. Patty is who cooks for us. Last Thursday, we had liver. She cooked for over 120 guys on the jobsite from her food truck.
Q: WHAT DO YOU DO TO KEEP THINGS FUN ON THE JOBSITE?
A: We enjoy team outings together. We've done things ranging from a Ranger's suite, Topgolf, football games, etc. We do this with the entire project team once every other month – including HCA's Construction Manager when she's in town. It's really helped sustain a true team spirit.