The growth of the construction industry has leading companies demanding more efficient technology solutions that not only eliminate crime on-site but also help project managers remotely control and manage multiple jobsites at once. From perimeter fencing to human detection technology, advances in security technology have opened the door to cutting-edge solutions that not only protect jobsites from crime but help run the day-to-day.
However, many construction companies have not kept pace with evolving security technology. Some companies even remove security from their budget to win the bid and hope their losses will be less than the cost of investing in security. In reality, cutting back on security usually results in unexpected downtime, damage to equipment on site, and other indirect costs.
"I still pay for the cost of crime, whether I spend money to control it or not." – Chet Farnsworth, Crimson Builders.
PERIMETER FENCING
Early jobsite security started with putting a fence around the perimeter and adding locks. Some people believed that if criminals couldn't quickly get onto a site, they would be less likely to try. Project managers promptly found that deterring criminals wasn't that easy, as many would climb over fences, go under, or cut the locks.
"I STILL PAY FOR THE COST OF CRIME, WHETHER I SPEND MONEY TO CONTROL IT OR NOT."
– CHET FARNSWORTH, CRIMSON BUILDERS
GUARD SERVICE
Next, security guards became popular to protect jobsites at night, believing that criminals surely wouldn't break in if somebody is on site. On average, guard service could cost $25-$30 an hour, totalling thousands of dollars per month. Although guard presence did deter some criminal activity, a guard could only cover limited space at a time, still allowing criminals to steal equipment and vandalize.
RECORDED CAMERA SYSTEMS
Then came cameras with recording capabilities. Professional security companies installed some of these systems, but there was an increase in selfmanaged systems to save money. Both worked well enough to record trespassers for police to pursue the following day. Unfortunately, photo and video evidence needs to be conclusive enough to warrant criminal charges, and many of these traditional systems didn't work.
MOTION DETECTION
The next big move in technology was motion detection cameras, which are often installed on a mobile trailer and easily pulled on and off the site. Security companies would monitor these cameras for alarms and call site contacts whenever there was any movement on site. What happened instead? Cameras activated because trees were blowing, dogs or raccoons were on site, rain or a tarp blowing, and many other triggers. Over 98 percent of these incidents were false alarms, which lead to a rapidly decreasing response time by law enforcement. To make matters worse, project managers were being woken up at 3 a.m. to respond by cell phone and make a quick decision. At the same time, their company paid thousands of dollars for this service.
HUMAN DETECTION TECHNOLOGY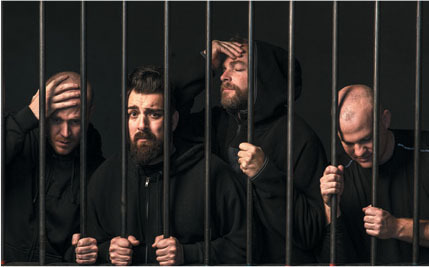 Thankfully, advancements in technology have paved the way for a solution that helps project managers eliminate repeat crime on their sites and doubles as a site management tool. The biggest game-changer in security technology is the ability to catch trespassers red-handed and push the live footage to responding officers. For example, in 2019, security technology provider Radius Security had over 600 police apprehensions, with an average response time of 4-8 minutes. Access to "live view" cameras means officers can react more quickly, knowing a crime is in progress and have confidence that it is not a false alarm.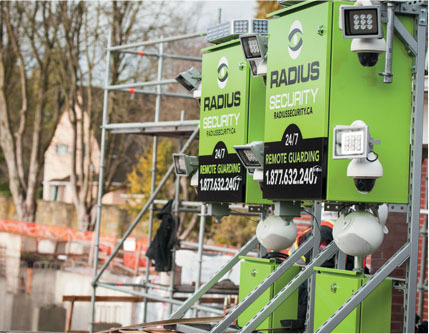 According to Fred Lohmann from the National Insurance Crime Bureau, a force multiplier occurs for future crimes; one apprehension will prevent up to 33 future crimes. Project managers using these tools are not only decreasing their insurance claims, but some are eliminating crime from their jobsites completely.
COST IMPACT ANALYSIS AND PROVEN RESULTS
In the case where there may be vandalism to heavy equipment like a crane, downtime could cost up to $100,000 per day. Unplanned losses like this could derail a project from completing on time and on budget. Companies are now adding security technology into their budget, as one day of downtime would exceed what they spend on security for the entire project.
As project managers better understand the advances in security technology, there is a new demand for security companies to provide proven results by tracking their apprehensions, police response time, and false alarm rate.
Additionally, there is a requirement for added value from security providers. With a fully integrated system, project managers can view their sites remotely from any internet-capable device. This helps keep subcontractors on track and gives them the ability to access daytime footage to settle disputes between subcontractors, creating a safer work environment for everyone on site.
4 SECURITY TECHNOLOGY TERMS EVERY PROJECT MANAGER SHOULD KNOW
Analytics: Refers to programming within a camera to help identify and classify objects, allowing for decreased false alarm triggers.
Motion Detection: The camera's ability to detect changes to the environment.
Remote Monitoring: Gives access to cameras from any internet-capable device. It is used by some advanced security technology companies to verify a crime in progress.
Human Detection Technology: The ability for analytics to identify and classify humans in the camera view, excluding weather and animal triggers.
To learn more about protecting your jobsite from crime and the advanced security technology available, please visit usa.radiussecurity.com/construction-sites or call a Security Specialist at (817) 410-2233 for a free no-obligation security assessment or quote.