INTERVIEWEES: Jerold Nichols (Amber Electric), CE Crenshaw (Amber Electric), Jaime Pacheco (Amber Electric), Michael Knapp (Skiles Group)
PROJECT NAME: Methodist Mansfield ASC
PROJECT START DATE: January 2020
PROJECT COMPLETION DATE: July 2020
ARCHITECT: Gastinger Walker
OWNER: Methodist Mansfield Ambulatory Surgery Center LLC
PROJECT DELIVERY: CM-at-Risk
PROJECT DESCRIPTION: The project was $4.5 Million and 9,084 SF. The Methodist Mansfield Ambulatory Surgery Center is located on the 4th floor of the Methodist Mansfield Professional Office Building 2 which was also constructed by Skiles Group. It contains 2 operating rooms, 2 treatment rooms, 4 pre-op bays, and 7 PACU bays along with all the supporting services necessary to operate a surgery center. The project included a new generator located on the East side of the building, an Air Handling Unit, Air Cooled Chiller, and chilled water buffer tank on the roof, and the addition of a new elevator to accommodate stretchers.
Q: THIS EDITION OF IN FOCUS IS FOCUSED ON WORKFORCE DEVELOPMENT. WHAT PROACTIVE MEASURES DID THE TEAM EMPLOY TO SECURE SKILLED LABOR AND KEEP EVERYONE SAFE DURING THE LIFE OF THE PROJECT?
A: [Jerold] Our philosophy toward workforce development is to not steal the competition's people but to build them up ourselves. We generally target younger people – high school students and trade school students, especially. We even work with people looking to change careers from other industries. In fact, we recently had a teacher who decided that teaching was no longer for him, so he came over and joined our team. We're currently 2 years into the program, and we have some good young guys and gals coming up through the program and entering into our industry.
Construction Education Foundation (CEF) is our primary training partner. In fact, Amber's founder, Steve Kennedy, was part of the team that helped create CEF. However, we also utilize Independent Electrical Contractors (IEC) and Texas State Technical College – Red Oak Campus. At the end of the day, if they're training, we're interested. I feel like it's our duty to give back to the industry. We love our folks, and we want to set them up to be successful.
[CE] Regarding this particular project, we have highly trained personnel with experience in medical work who can also step in to help teach younger trainees. It helps a lot to have training available on both ends – in the classroom and on the jobsite.
Q: HOW MANY PEOPLE WERE ONSITE AT THE PEAK OF THE PROJECT?
A: Project wise, at peak there was a total of 60 people onsite. At the apex of Amber's scope of work, we had 10 folks onsite.
Q: WERE THERE ANYTHING YOU FOUND PARTICULARLY INNOVATIVE IN REGARDS TO THIS PROJECT?
A: [Jerold] The Lean Builder approach used by Skiles Group was very refreshing and an exciting innovation that is taking off in this industry. From day one on the job, everyone was putting up sticky notes and working together to coordinate how we were going to build this project together. As specialty trades, we know what it takes to build our part, but we don't always know the big picture, and this approach helps with that. I think this helped give our guys buy-in on the job because they felt like their input was truly being listened to by the Skiles Group's team. I truly believe that if more project teams would build this way, their jobs would go more efficiently, and it would be more fun for everyone involved. Everybody wins!
Q: WHAT CHALLENGES DID YOU FACE ON THIS PROJECT?
A: [CE] In the original electrical room layout, there was 5 pounds of junk in a 2 pound sack, so to speak. We ended up having to enlarge and redesign the entire electrical room from drawing to meet challenge of the space.
[Michael] There was massive ductwork that fed the other four floors that was running above the room, so we had to basically build a rated ceiling instead of taking the walls to deck with nothing other the electrical room. The final ceiling height was 8 feet at most, so it was a very tough, tight space that Amber handled very well.
[CE] Another major challenge was the materials supply chain (i.e. lighting, generators, etc.), which went south over the course of the project. We had to check those schedules weekly, if not daily, to ensure we got everything on time, as COVID-19 did cause some delays. Thankfully, those didn't end up affecting project, but we definitely had to keep a close eye on it.
[Jerold] This was a 4th floor job in occupied facility, which is always a challenge but even more so during a pandemic. We had a lot of conduit running through the cancer center on the 1st floor, and Skiles Group had to do some fire spray on the 3rd floor, which was occupied by the pediatric clinic. So much was unknown at beginning of pandemic, and we didn't want to cause fear amongst patients and their families as we came in to work in the occupied space. We ended up doing a lot of weekend work to minimize the impact and generally did whatever we had to do to make it work.
[Michael] Another challenge due to COVID-19 was getting inspections scheduled. Shifting protocols and inspectors getting sick meant we needed to be flexible. Some inspections were done virtually using Facetime, Teams, and Zoom. The inspectors relied on accurate paperwork during these virtual inspections. That was definitely different, but everyone took it in stride and was flexible. Actually, it seemed like it was more efficient than the usual in-person inspection scheduling process. Hopefully in the "new normal," we'll be able to continue virtual inspections, and it'll be easier to get these scheduled!
From Skiles Group's end, with the pandemic (which hit only a couple of months into the project), there was quite a bit of adjustment on our feet. We had to make changes to how we conducted our owner's meetings and how we operated on the jobsite. We held safety meetings in rotations with groups of 10 or less. COVID-19 forced us to look at more technology options to stay on track and on schedule while maintaining strong communication amongst our team and our trade partners. It was a heck of a strategy change, but we did it smoothly and with no downtime and no positive cases. The main goal was to make sure people felt comfortable coming to work everyday and to ensure everyone's safety by identifying any potential cases as early as possible.
[Jerold] Skiles Group was really proactive in providing guidance for the trade partners on how to implement and follow all of the new COVID-19 safety protocols.
Q: WHAT WAS MOST EXCITING ABOUT BUILDING THIS PROJECT?
A: [CE] We get a set of drawings that is more like a suggestion of how to install these systems, but taking the generator from almost the parking lot and getting it up to the 4th floor was an exciting problem to solve. To see everything work out in the end is so satisfying, and I still get excitement out of it even after all this time.
[Michael] I'd like to echo that. Taking these challenges, or opportunities for success, and coming together as a team to solve something and seeing it work is rewarding and gratifying. That's what I love most about this industry – you get that validation of success repeatedly and frequently through what we do. You get to drive around town and say, "Hey, I built that," and we each come away from a project with our own stories.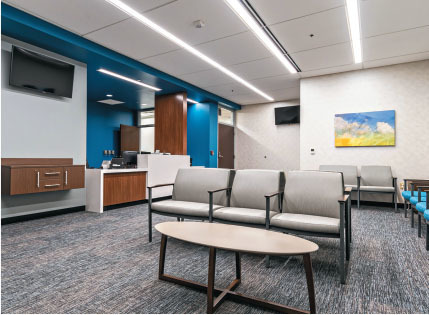 Q: WHAT OTHER ASPECTS SET APART THIS PROJECT?
A: [Jerold] Any time you get to be part of a medical project, I think helping people is what sets it apart. That's what we do all the time in construction – whether you're building a house, a building, or medical facility, you're helping people. But I find medical projects are especially rewarding to work on. It never gets old to me.
Q: HOW DID YOU MAINTAIN A SPIRIT OF COLLABORATION THROUGHOUT THE LIFE OF THE PROJECT?
A: [Jerold] After the initial kickoff meeting, I was talking with some of the other trades in the elevator who said they weren't so sure about the Lean process. But in the end, everyone bought into it and had trust in Skiles Group's team, which helped maintain collaboration. We worked together with Michael on a lot of challenges and they listened to what we had to say, so we were able to back into a solution together.
[CE] During this process, I didn't feel like a sub contractor, I felt like a team contractor. We have say-so on the schedule and buy-in throughout the process, which kept us involved and engaged.
Q: WHAT IS SOMETHING THAT SETS YOU APART FROM YOUR COMPETITION?
A: [Jerold] We're going to love our people and prop them up to succeed. We create an environment where people can feel comfortable to say "I don't know" and take that as an opportunity to learn. We're going to be honest, ethical, and not make any promises we can't cash. We're not the biggest or the baddest, but we're one of the best electrical contractors in the area to work with.
[CE] I've been at Amber Electric for 28 years. We care about our people, want to give them training, and want them to go home safe. Jerold has brought a great breath of fresh air these past two years and has taking the constant learning to a whole new level.
[Michael] I've been working with Amber for 11 years. Amber, and CE in particular, do what they say what they're going to do. It's so key to be able to trust in the promises and commitments from your trade partners. When they say something can't be done a certain way, I trust and listen to that, and we work together and get creative to find another solution. They've always been very honest and upfront with problems they're having on a project or ideas of solutions they might have to make the project even better, even if it's not in their best interest but in the best interest of the project as a whole.
Q: WHAT DID YOU DO TO KEEP THINGS FUN ON THE JOBSITE?
A: [Michael] Our superintendent, Jeff Witte, and Amber's superintendent, Jaime Pacheco, both do a great job leading the teams and making sure they're feeling validated and accomplished every day. The pandemic kept us from doing a lot of our usual appreciation events and activities, but I think a smile and positive attitude goes a long way, and I know for a fact that's how Jeff and Jaime run their jobs. They made the best of a crummy situation with the pandemic and kept morale high, even with all of the new COVID-19 policies and procedures.
One thing we like to do at Skiles Group in our weekly meetings is start off by celebrating project successes. We make a conscious effort to address the things that went well in order to keep the focus from being entirely on the problems.
[Jerold] It's the little things like sincere compliments and thanks that go a long way. Skiles Group did a great job of celebrating the smaller milestones and victories along the way even during the tough environment of the pandemic. When you know you're appreciated, you like coming to work.