INTERVIEWEES: Christian Martinez (Senior Project Manager), Heather Rogers (Project Engineer), Stephanie Isaacson (Marketing Manager)
PROJECT: Cyrus One
PROJECT START DATE: December 2019
PROJECT COMPLETION: January 2020
ARCHITECT: HKS
OWNER: Harwood
PROJECT DELIVERY METHOD: Traditional or DBB
TRADE PARTNER: BETCO Scaffolds
PROJECT DESCRIPTION: Cyrus One was a memorable project for us because of the unique design elements. We built and installed branded signage – all different sizes and materials – custom detail cushions and railings for their banquette seating, and a leather wall using our AEC TrackSystem. We enjoyed problem solving and working through all the little details with the architect and general contractor so that we could ensure the designer's vision was brought to life. This project cultivated innovation, collaboration, and creativity. AEC likes to take on the challenging pieces of a design and deliver. Cyrus One was one of those projects!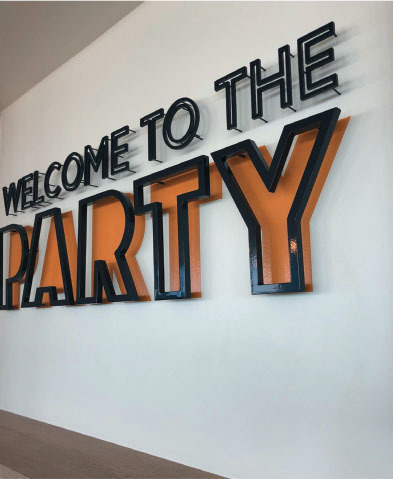 ALL AEC EMPLOYEES HAVE COMPLETED TEXO SAFETY FIRST TRAINING, AND THE MAJORITY OF OUR FOREMEN HAVE THEIR OSHA 30 CREDENTIALS.
Q: AT TEXO, WE BELIEVE IN SAFETY FIRST, SO LET'S START THERE. WHAT PROACTIVE MEASURES DID THE TEAM EMPLOY TO KEEP EVERYONE SAFE DURING THE LIFE OF THE PROJECT?
A: All AEC employees have completed TEXO Safety First training, and the majority of our foremen have their OSHA 30 credentials. On this particular job, since we did use scaffolding for three floors of stairs to do our track system, we had our OSHA 30 certified safety inspector go with our foreman to verify and document our daily Job Hazard Analysis (JHA) reports.
At AEC, we also have our own proprietary digital reports that we utilize for our daily logs. Our field team is able to access it on theor tablet devices to document site conditions, take photos, report any damages or safety violations, etc. It has a GPS time stamp feature that automatically tags the log with time, date and location information when it is uploaded, before sending the information to the project team in an email. This has proven to be a great way for us to track what's going on across all of our job sites and ensure everyone is staying safe.
Q: HOW MANY PEOPLE WERE ONSITE AT THE PEAK OF THE PROJECT?
A: At peak we had six folks onsite amongst 30-40 total from other specialty contractors.
Q: WHAT OTHER ASPECTS SET APART THIS PROJECT?
A: With this project, there were a lot of unique design elements, including a variety of small details that a visitor may take for granted but took a lot of time and attention on our end. For example, some of the cushions had unique leather straps that wrapped around custom railings that we developed for the client.
There was also a "Rules of the Road" sign outside of the lobby elevator that consisted of lettering that was cut by a CNC machine, out of aluminum. The design team had a vision of what they wanted the final product to look like, but they didn't know all of the details necessary for making it a reality. Something we pride ourselves on is collaborating with design teams to figure out not only how to make their ideas work, but how to do it well. We ended up – after a series of prototypes and mockups – developing a custom anchoring system that the letters of the sign slid into.
We also worked closely with the mill worker to create a LED-backlit CyrusOne logo desk. Our team cut out the logo per the owner's branding guidelines using a CNC machine, inserted a frosted acrylic layer, and added the multicolor LEDs, before piecing the final product together with the millwork team.
Q: WHAT WAS MOST EXCITING ABOUT BUILDING THIS PROJECT?
A: The unique details definitely made this more interesting than your standard, "bread and butter" projects. We had a great opportunity to assist and make recommendations to the project design team on a number of different items, and really take advantage of the folks on our team with design and architecture backgrounds. For example, the "Here for the Party" piece, a metal sign over their coffee area, was a collaborative effort with HKS after the original design was scrapped by the owner's brand team. With most specialty items, we are involved with the design team from early on in the process, most times even before the job has been awarded.
Overall, the job as a whole was just fun! There was a significant amount of custom work that involved the entire AEC team. From sales and design to the PEs and PMs, almost everyone had their hand in this project in some way. And the end result is something awesome that folks will think, "That must have been so easy," but will never know the amount of detail and effort that went into it. But we'll be able to take that detailed knowledge we gained into making the next specialty project look easy too.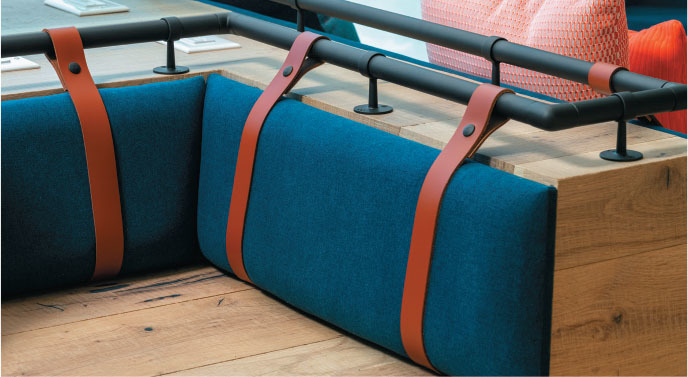 Q: WHAT CHALLENGES DID YOU FACE ON THE PROJECT?
A: This project was on the top three floors of the building (floors 21, 22, and 23) with a high, open staircase against a curtain wall on the north side of building. We needed to install a giant AEC track system with genuine leather hides tucked into it, but we couldn't erect a three-story-tall scaffold without damaging the tile on the stairs and the landings. With help from BETCO Scaffolds, We ended up needing the contractor to hold off on installing floor-to-ceiling windows for two conference rooms adjacent to the curtain wall. Then, with help from BETCO Scaffolds, a beam was cantelivered across the area to set the platform for the scaffold. It took a lot of math and engineering! But it worked out well, and the HVAC contractor and painters were able to utilize the scaffolding for their work as well.
Additionally, there was a design change on the "Here for the Party" feature, where we were tasked with bringing a general vision to life. We brought in Sam Montalbano, our Custom Fabrication Specialist, who realized that we wouldn't be able to cut out the curved areas from the 1.5-inch solid steel tubing with the CNC machine while maintaining their crisp, clean edges. After a series of mockups, he ended up having to forge them by hand. This required a lot of experimentation, but in the end, the signage came out beautifully. The letters had nice, crisp, clean cuts and strong color.
Q: HOW DID YOU MAINTAIN A SPIRIT OF COLLABORATION THROUGHOUT THE LIFE OF THE PROJECT?
A: We pride ourselves on having an open office environment both physically and culturally, so there's no "my project" or working in a silo. We have people with all sorts of backgrounds on our team, and we love to work together and bounce ideas off of each other. The different perspectives and proficiencies help create a perfect storm of creativity and make us a well-oiled machine.
Q: HOW DID YOU KEEP THINGS FUN THROUGHOUT THE LIFE OF THE PROJECT?
A: We actually like each other! We have a good time together, and try to keep a feeling of family amongst our team. There's never a right or wrong answer. We're not curing cancer – we're providing a product and service to our clients. We enjoy the challenge of taking a cool design concept and bringing it to life in a practical way. And we know that an idea that may not have worked out on one particular specialty item could very well be the solution for the next project, so that keeps us grounded and positive.
Q: WHAT IS SOMETHING THAT SETS AEC APART FROM YOUR COMPETITION?
A: When people ask what AEC does, we like to say, "We're the ones who do all the weird (stuff)!" We like to think of ourselves as solution specialists. If you're not sure how you're going to make something work, we'll be there to help figure it out right alongside you. If you're not sure who could build it or install it, call us! We're a very design-focused contractor, which makes us unique. Architects and design firms call often on us to help work through the details of a feature piece from the very beginning of the project. In fact, we've launched an entire creative division named NIC ("Not in Contract") to focus on these specialized solutions.
One of the biggest things that sets us apart is that we follow through tenaciously. With construction, there are always going to be challenges, but we're going to do what we've committed to, and we're not going to quit until its done and done right in our client's eyes. A successful project for us is a successful project for the general contractor, architect, owner, etc. So we're not afraid to pick up the phone and have an honest conversation about what we believe will or won't work to ensure we get the end result that everyone is looking for.